Compare Kwik Trip Cards
Pick the best card for your team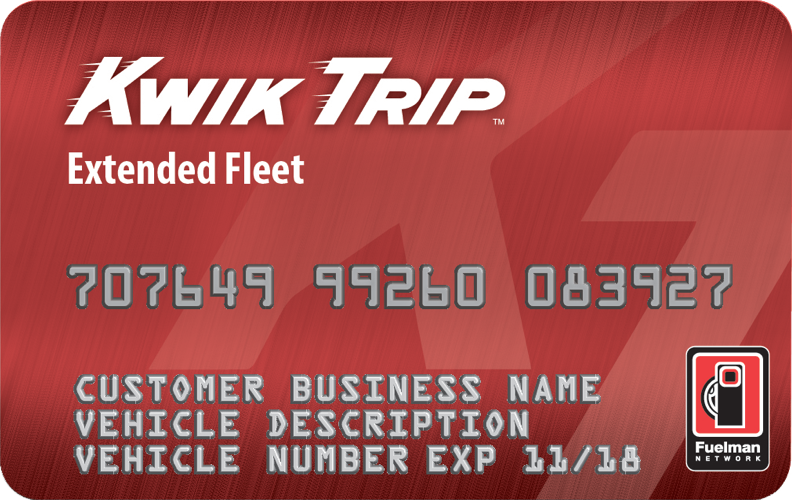 Apply for Instant Decision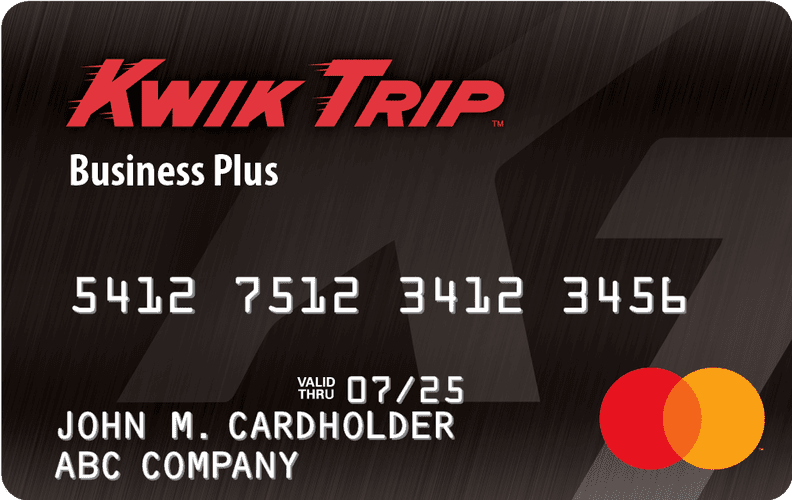 Apply for Instant Decision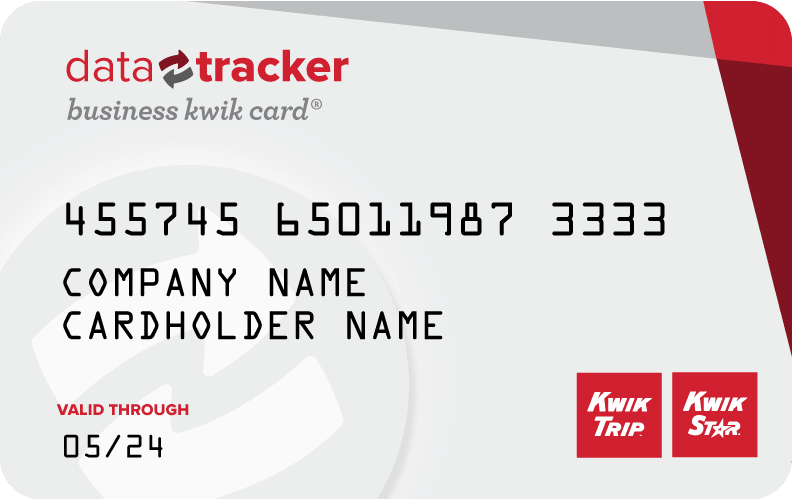 Apply Now
REBATES & DISCOUNTS

Earn 3 cents per gallon on any fuel purchased

Enjoy a 5% rebate on all gasoline fuel purchases for the first 60 days1

Save 10% on most in-store purchases within the Kwik Trip network2

BENEFITS

Accepted at any Kwik Trip / Kwik Star location

Accepted at any fueling station that accepts Fuelman® cards

Accepted at any fueling station that accepts Mastercard® cards

Use to purchase maintenance service in addition to fuel

Network access to high speed diesel pumps

ONLINE TRACKING TOOLS

Custom Reporting and Account Management

ACCOUNT MONITORING & SECURITY

Card restrictions by gallon amount, time of day, day of week, etc

Driver ID and Odometer Prompting

Driver or Vehicle ID and Odometer Prompting

Driver ID and Vehicle ID and Odometer Prompting

Real-Time transaction review
Earn 3 cents per gallon on any fuel purchased

Enjoy a 5% rebate on all gasoline fuel purchases for the first 60 days1

Save 10% on most in-store purchases within the Kwik Trip network2

Accepted at any Kwik Trip / Kwik Star location

Accepted at any fueling station that accepts Fuelman® cards

Accepted at any fueling station that accepts Mastercard® cards

Use to purchase maintenance service in addition to fuel

Network access to high speed diesel pumps

Custom Reporting and Account Management

ACCOUNT MONITORING & SECURITY

Card restrictions by gallon amount, time of day, day of week, etc

Driver ID and Odometer Prompting

Driver or Vehicle ID and Odometer Prompting

Driver ID and Vehicle ID and Odometer Prompting

Real-Time transaction review
Earn 3 cents per gallon on any fuel purchased

Enjoy a 5% rebate on all gasoline fuel purchases for the first 60 days1

Save 10% on most in-store purchases within the Kwik Trip network2

Accepted at any Kwik Trip / Kwik Star location

Accepted at any fueling station that accepts Fuelman® cards

Accepted at any fueling station that accepts Mastercard® cards

Use to purchase maintenance service in addition to fuel

Network access to high speed diesel pumps

Custom Reporting and Account Management

ACCOUNT MONITORING & SECURITY

Card restrictions by gallon amount, time of day, day of week, etc

Driver ID and Odometer Prompting

Driver or Vehicle ID and Odometer Prompting

Driver ID and Vehicle ID and Odometer Prompting

Real-Time transaction review
Earn 3 cents per gallon on any fuel purchased

Enjoy a 5% rebate on all gasoline fuel purchases for the first 60 days1

Save 10% on most in-store purchases within the Kwik Trip network2

Accepted at any Kwik Trip / Kwik Star location

Accepted at any fueling station that accepts Fuelman® cards

Accepted at any fueling station that accepts Mastercard® cards

Use to purchase maintenance service in addition to fuel

Network access to high speed diesel pumps

Custom Reporting and Account Management

ACCOUNT MONITORING & SECURITY

Card restrictions by gallon amount, time of day, day of week, etc

Driver ID and Odometer Prompting

Driver or Vehicle ID and Odometer Prompting

Driver ID and Vehicle ID and Odometer Prompting

Real-Time transaction review
1New accounts will earn a 5% rebate on gasoline purchases made at Kwik Trip or Kwik Star locations for the first 60 days after account setup. Rebates are subject to forfeiture if account is not in good standing. Program pricing is subject to change any time beginning 12 months after sign-up.
2Kwik Trip, Inc reserves the right to exclude certain items subject to state law minimum mark-up requirements, or which are otherwise prohibited by law from earning such discounts. Examples of products subject to mandatory minimum mark-up requirements include, but are not limited to, cigarettes, Lotto, lottery tickets, and gift cards."
Talk to a fleet specialist.